A boring party
You're at a company picnic and hanging out on the sidelines. You never look forward to company get-togethers. Everyone usually just flocks around the boss. It's not necessarily about employee bonding or having a good time; it's just another attempt to climb up that office ladder.
You must have a scowl on your face, because a number of co-workers have come up to you and asked, "Are you feeling ok?" You're thinking of leaving. You tell yourself you have nothing to contribute. Suddenly, an older man approaches you and says, "You have unique ears. You're a good listener, aren't you?" You nod. He doesn't look familiar. He continues, "You're an introvert, a thinker, always off to the side." Who is this guy? Some kind of psychic? The man puts his hand on your shoulder and says, "Let me draw you. I'm a caricaturist."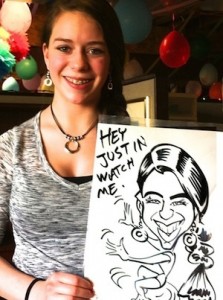 About 2-3 minutes later, he hands you your portrait. You're pleasantly surprised. It DOES look like you, not like a photograph, but something more. This caricaturist has captured your soul. You chuckle. The party has gotten better, all because of a caricaturist…
What is a caricature?
My name is Mark Hall, a caricaturist and founder of Caricature Art Inc. I first got into caricature at six-years-old. Since then, I studied at the Colorado Institute of Art. I also illustrate books, t-shirts, cards and much more! Welcome to my blog!
Caricature is what gets me out of bed each day. Drawing a caricature is a personal and emotional experience, for both the model and myself. The moment I put pen to paper, I enter another world. It's as if a door opens up that illuminates the person's soul and their unique characteristics. I read people very well, but when I'm drawing them, I read them much better.
As I'm drawing, the movement of the line demonstrates my connection with the model. I don't sense any negative energy. On the contrary, all I sense is positivity and I translate that into the drawing. In many ways, I'm a positivity metal detector, able to key in on positive energy and special characteristics. No matter if it is little positivity, I will tap into it. The reason why I've done caricature for so long is that it is rejuvenates me, a spiritual experience let's say. It's all about intimacy, connecting with each model on a different level.
Heart of Darkness author Joseph Conrad once said, "A caricature is putting the face of a joke on the body of a truth." The caricaturist, by his very nature, is a truth seeker, able to take the truth but clothe it in humor, so not only is it easier to take in, but more fun.
Although caricature is primarily associated with political cartoons, as it enables artists to convey exaggerations of a politician's or celebrity's distinctive features, it is also an effective tool at conveying someone's essence or spirit. Caricature, in other words, is a happy and optimistic way of looking at the world, a form of intimacy. There is so much negativity in the world today. Caricature is a much-needed respite from all of that. One way to deal with negativity is to laugh at it.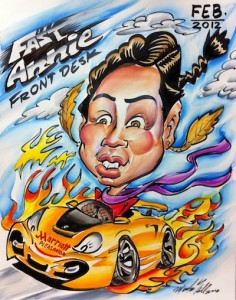 If you have a caricaturist at your event, everyone has a good time. Everyone laughs. People will look at his or her own caricature and have a laugh. Oftentimes, people frame it and put it on the wall or on their desk at work. It is the perfect piece to show family and friends. While it provides a lasting memory, it also provides something more important: truth and a piece of the soul.
I will perform at any function – birthday parties, corporate functions, holiday parties, etc. – bringing with me a sense of optimism, good-natured fun and intimacy. If you are in the Ft. Collins, Colorado area, contact me today!