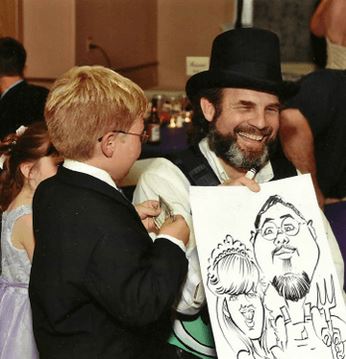 No matter what kind of event or party you're throwing, you always want to make it special. In the new year, do just that with Caricature Art and artist Mark Hall's on-site services!
New Business
When opening a brand-new business, you want to make sure people you pull in as many people as you can for the grand opening. That means not only just having your new business, but also attracting attention with additional attractions as well. That's where a caricature artist comes in. Having Hall on site to draw caricatures for your new customers is not only a good way to bring people in, but also gives them a great experience they can associate with your business. This positive impression can help spread news of your new shop or store, bringing them and their friends back after the opening.
Winter Parties
Just because it's cold out, doesn't mean you can't have any fun. Winter parties happen all throughout the season and caricature art is a great addition to any event. Hall will not only create great caricature drawings, but can add seasonal elements to them as well. Whether it's drawing an individual placed among a field of angry snowmen or capturing their personality and fun-loving nature aboard a sled, custom caricature will give your guests something great to take home along with their memories.
Weddings
Weddings are already being planned for next year, so why not book a caricature artist for your reception as well? Caricature art can be a great parting gift for anyone who attended the wedding and give them something to always remind them of your special day that they got to share with you.
Birthdays
Instead of the same-old gift, give your friend, colleague or loved one a unique present this year in the form of caricature art. Hall can take pictures that you send and create a one-of-a-kind caricature drawing to give to the person on their special day. You could also book Hall for your birthday party, adding a fun element to the day and allowing everyone who attends to leave with a special gift of their own!
Caricature Art can help make any occasion a special one. If you would like more information about Hall or to book him for an upcoming event or party, call him today at 720-312-1220!