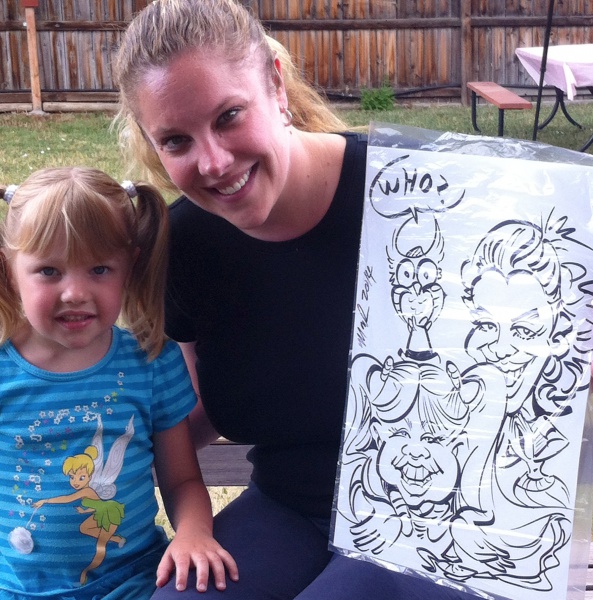 When we want to commemorate a party or occasion, we most often do so with a photo. However, if you're looking to give your guests something special to remember your event, a caricature from Mark Hall might be the answer.
Hall offers his artistic services to all kinds of parties and events, including company parties, picnics and weddings. His skill set allows him to not only capture the people he is drawing, but include something unique in the caricature that will remind them of the day they got it done. This will give them something that will allow them to remember the party or event fondly for years to come.
As a long-time caricaturist, Hall has worked numerous parties throughout the years and has interacted with tons of people. No matter what the theme is for your occasion, he will be able to interact well with guests and make them feel comfortable while he is creating their caricature. This is important – it's best to capture a true representation of someone when they are comfortable and relaxed, and Hall's personable approach will help guests to feel welcome and at ease.
With summer on its way out and fall quickly rolling, fall-themed parties and outdoor events will have a very distinct look thanks to the unique oranges, reds and yellows of autumn foliage. Hall can make sure those vivid colors are incorporated in your caricature, giving you pieces you'll remember forever that capture each subject's distinctive appeals and features amid a sea of fall colors. Whether you're looking to add a multi-color tree or a pile of fallen leaves, Hall can work in splashes of autumnal spirit to give you a great fall-themed caricature.
Mark Hall has offered caricature services for weddings, parties and birthdays for years, and is the perfect choice for your upcoming fall event. To learn more about Hall or to book him to create caricatures at your next occasion, call him today at 720-312-1220!