Right around this time of year is when winter sports start to come to an end and spring sports start to prepare for the season ahead. This year, commemorate your winter or spring sports team with a caricature from Mark Hall Caricature Art.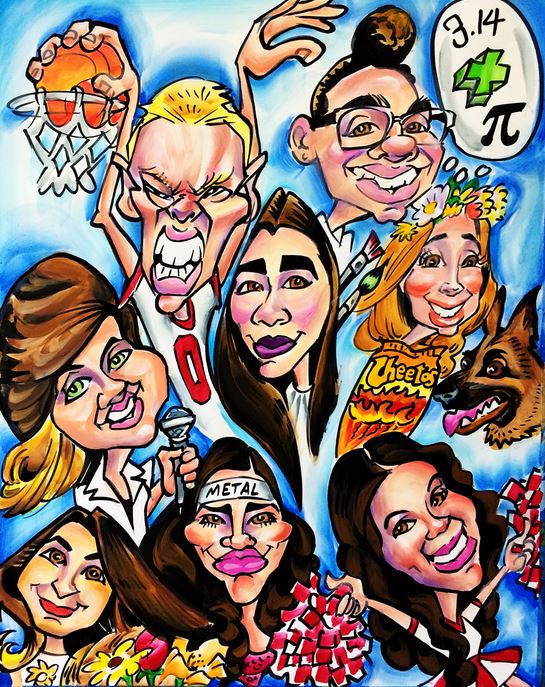 No matter what season it is, kids will put their heart and soul into their team in the hopes of coming out with a championship trophy. Unfortunately, though, not everyone is able to go home with one. That doesn't mean that your son or daughter's team didn't have a season worth remembering. Capture memories of their fun season with a caricature by Mark Hall.
If your team is in the area, you can book an in-person session for Hall to draw the whole team, whether it's a candid shot of everyone together or gathered around a championship trophy. This would be a fun way to capture the spirit of the season and something different than just your everyday photo.
Caricature doesn't have to be an end-of-season affair either. As spring sports teams start coming together, what better way to help get new and old members to bond than with a fun caricature? A small get together for a group caricature can help the team bond and build camaraderie. While at the get-together, they can play games, enjoy some food and with a caricature artist there, they could commemorate the event. Hall could come in and do individual drawings of each player to give them something to show to the other players to strike up a conversation.
Hall can also do caricature based on photos. Send a picture of your team in and he can draw a unique depiction of your all-star hockey players, bombastic base runners or stunning softballers. Get something truly one-of-a-kind to remember this season and give everyone on the team a fun memento with caricature art!
If you would like more information about having a caricature drawing done of your team, feel free to call today at 720-312-1220!