As an artist, it may be difficult to deal with the digitization of art, but this also could be a good thing for business and getting your art out into the world. For caricature artists like Mark Hall Caricature Art, he is utilizing the digital world to enhance his artistic platform and creativity.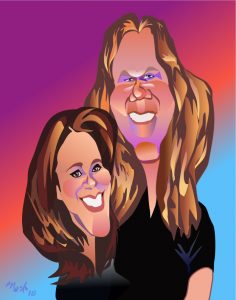 Digital Caricatures & Drawings
Mark Hall can create a digital masterpiece, whether that is a family portrait from a photograph, or a complete digital drawing using fun themes and techniques. These digital caricature drawings are handcrafted by Mark.
The Benefits of Digital:
There are plenty of benefits when it comes to getting digital drawings done. Of course, the original paper drawing gives you the most authentic experience, but that does not mean the art is any less unique when digitized.
It's digital, which means there's more than one copy – having a digital caricature drawn has the benefit of sharing online with friends and family. Multiple copies are easy to make.
Unique – every single piece of artwork you will get is uniquely drawn by Mark himself. With digital drawings, the tools are different, which makes them different and unique to a classic drawing.
The Art is Creative and Unique
If you are looking to choose digital caricature art, Mark Hall will be able to get the job done. Do not think that digital drawings diminish the uniqueness and quality of the artwork itself. Digitizing artwork is a new and different way to express the art. Art is all about creativity and expression, which means the digital world is becoming a new place to express your art.
Mark Hall Caricature Art
Mark Hall Caricature Art specializes in caricature art for events and parties, weddings, trade shows, digital drawings and more! You can shop for art online and book appointments, as well as book on-location drawings. Contact Mark Hall Caricature Art at 720-312-1220 today if you're planning a wedding reception.