For the last few posts, I have discussed the importance of caricature having a presence in your life during the holiday season. One of the major reasons that caricature is necessary this time of the year is that it makes us a little less stressful. Less stress, even if it is just a little bit, might make the difference between cheerful stability and a yuletide breakdown. It does not matter how strong or put together you are; holiday stress can take down the best of us. When that happens, it is not a pretty sight and it can ruin the season not just for you, but for your friends and family as well. No one wants that.
Think of caricature as a dam that will prevent any sort of flooding. The simple act of seeing your physical features grossly exaggerated will put a smile on your face. It will make you forget, if only for a moment or two, about all the tasks you have to cross off your list before you can sleep at night, such as shopping for presents or prepping for a family gathering. A caricaturist is here to remind you that you do not have to take everything so seriously; life is for pleasure, an exploration of your own feelings so that you have some idea of who you are as a person and the things that you should be enjoying. A caricaturist will pull all of that out of you.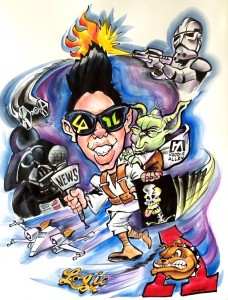 So caricature destresses us; that much I have made clear, but more importantly perhaps is that caricature gives us the opportunity to communicate better with one another. Just look at a recent piece of satire from The Breeze, the James Madison University student paper. Matt Murphy writes, "Every professor will be required to sit down with a licensed caricature artist and have their portraits drawn. The drawings will then be scanned and formatted next to the course number that the professor teachers. Many professors think it's a great idea."
The piece of satire seems to be the result of issues with the school regarding poorly received GenEd courses and the tediousness of registering and scheduling for classes. Some find the course descriptions to be vague and rather confusing. Students, in other words, are signing up for the wrong classes. By using caricature as an example of communication, the author is able highlight the ludicrousness of miscommunication at the collegiate level. "The best part about this new program is the ease it'll add for students trying to register for classes because self-scheduling is so often bogged down with just trying to navigate which course to take. Now, you'll finally be able to make an instant decision about enrolling in a class based on the teacher's cartoonish face."
While grounded in satire, the Murphy's piece highlights the importance of using caricature to communicate during confusing times. By pulling down the veil of confusion, caricature gives us a glimpse at the real story, at the truth inside the mirror. Is there any better way to experience the holidays? I think not.