Today is New Year's Eve and at Mark Hall Caricature Art Inc., we couldn't be more excited. We call this the season of caricature and with good reason: This is the time of year when we think about change, bringing out the best in us, and showing the world a thing or two. When thinking about New Year's resolutions, it always revolves around how you can be the best person you can be. The trick to accomplishing this is to know yourself, what makes you tick. The question we have for you is: Do you know what makes you tick? Here's the thing: You see yourself as a caricature and don't even realize it.
In this Huffington Post article, Simone Collins writes, "I have learned some fascinating things about the way we perceive ourselves and those around us. In an age in which we have immense control over how we appear (in social media, at least), we have developed increasingly-skewed self images. Along with our love of using filters and effects to manipulate our photos, we have developed a taste for caricatures and cartoons over realistic portraits. We are stepping away from reality and entering a fantasy world. This in itself is not a bad thing. The problem is that we do not realize it is happening. And when we encounter images of ourselves that do not reinforce our fantasies, we break."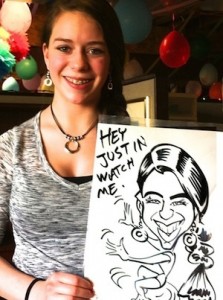 Collins argues that we must acknowledge our reality, embracing the best parts of ourselves but also recognizing how others see us, somehow combining the reality of the situation with the fantasy we like to tell ourselves each and every day. To accomplish this blending of these two worlds, Collins suggests we turn to caricature as a means of seeing the most interesting parts of ourselves and understand what we must do to thrust ourselves into the world. What a perfect foundation to ring in the New Year. Think of caricature as a secure base from which to achieve your resolutions. Happy New Year, see you in 2016!