The art form of caricature is one that pays great respect to many other types of art enjoyed by audiences in our contemporary world. Here at the Mark Hall Caricature Art blog, we've discussed places like Sardi's where caricature art isn't just displayed, it's a central part of the design and serves as an homage to the many famous personalities right in the heart of New York City's Theater District.
Caricature and theater are two forms of entertainment, both of which require a great deal of artistry, that have been closely intertwined over the years. For example, read this article published by Advocate.com, which discusses one piece of caricature art, which has been gracing the program for one Tony Award-nominated play.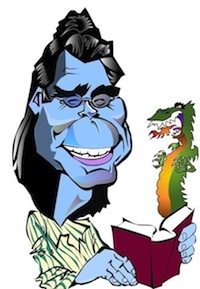 Renowned actor and playwright Harvey Fierstein has been creating quite a stir on the Great White Way for his latest play, Casa Valentina, set in the 1960s and featuring the real-life events surrounding a group of straight men who regularly travel to the Catskills region to cross-dress.
The Playbill for this very popular play prominently features the artwork of Ken Fallin, a renowned illustrator who has worked for The Wall Street Journal and who also contributes artwork to the popular theater parody series Forbidden Broadway. The caricature piece depicts most of the show's cast, most of them in full drag except one who is preparing his wig, suggesting the basic premise of the play.
Although it didn't win any awards at this year's Tony Awards, Casa Valentina was nominated for four, including Best Play. That a piece of caricature art has been featured as a part of the design for a successful Broadway run, even just on the Playbill, shows that this style reverberates very well with audiences. No matter what show you're running, you can be sure that all in attendance will enjoy seeing the work of a caricature artist. Mark Hall Caricature Art can bring a bit of showmanship to whatever party or event you organize. Call today to schedule an appearance by experienced caricature artist Mark Hall at your next get-together.