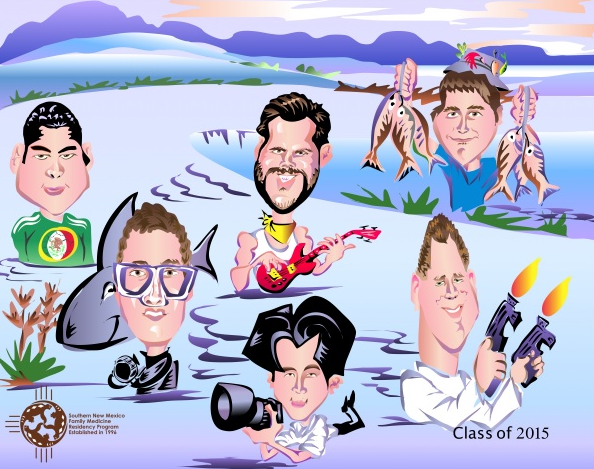 Caricature art is a welcome addition to any kind of event, whether you're hosting a reunion, graduation party or wedding reception. Guests of all ages will love to sit for a caricature with a talented caricaturist! But some folks, especially if they've traveled a long way to get to the event, may not be able to easily bring home their finished caricature on a big canvas. Instead of the traditional method of caricature art, using paper and a marker or paintbrush, why not go with our digital method?
Digital caricatures done by our digital expert caricaturist Mark Hall are one-of-a-kind drawings that he creates right on his iPad. Mark can create any kind of drawing that you want, from spoofs on magazine covers to crazy beach scenes.
Digital caricatures typically have the same style as the ones that are done on pen and paper, but you have more options as to what to do with the finished product. With a regular caricature, the only options are to frame it to hang on the wall or cover in plastic to preserve it for another day. With a digital caricature, however, you can use or share the finished product any way you want to. You can print copies of it if you like, or it can be your new profile picture on social media. You could even use it on the back of your business cards, or send it to friends, family or other loved ones who are on the other side of the country.
Plus, for events like reunions or trade shows, wouldn't it be great to share a database of finished caricatures and names with all the attendees? That way you have a point of reference for each person that you reconnected with at the reunion and a fun memento to associate with them.
For more information on digital caricature art or to book Mark for your upcoming event in the Denver area, contact Mark Hall Caricature Art today by calling 720-312-1220.