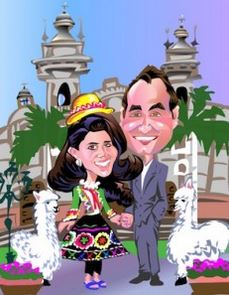 Have a big get-together, wedding or other special event coming up and need to make invitations? Why not add some creativity to your invites and adorn them with caricature art from Mark Hall Caricature Art? There are all kinds of fun designs and themes that he can add to make your upcoming party invitations a real treat!
Spice Up Your Wedding Invites
We have all seen the boring black and white wedding invitations, featuring some flowing writing on the front, more writing in the middle – blah, blah, blah, it's all been done before. Add some caricature art onto the front of your wedding invite, though, and you'll truly put some excitement into your invitation.
Having a themed wedding? That's even better! We can fill those invites with all sorts of fun art that will have your guests laughing and enjoying the sight. Having a Western-themed wedding? Send us a picture of you and your spouse-to-be and we'll draw you both into an Old West theme. Proud of your heritage? Great! We'll draw the happy couple on a colorful background that celebrates your lineage.
We Can Do Corporate Invites Too
Having a company holiday party or seminar? Show off the fun side of your company culture with caricaturized invitations! Turn your boss into a superhero or add a fun picture of the executives in the boardroom. The sky's the limit!
Ideal for Milestone Birthdays
Caricature art is perfect for any milestone birthday. Is Grandpa Dave turning 90? Did he always want to be an astronaut? Then why not create an invite with him smiling while floating in space? Is your daughter celebrating her Sweet 16? Then why not have a caricature of her in a new car on the cover of her invite – whether or not she actually gets it! There are all sorts of options to choose from.
At Mark Hall Caricature Art, if you can imagine it, you can have it on the front of your invitation. We do everything from graduations and promotions to holiday and retirement cards, and our services are available at prices that will keep you smiling, too. Give us a call at 720-312-1220 today to get started on making custom caricature-inspired invitations for your next event!