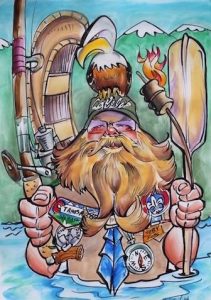 Do you plan on taking advantage of the gorgeous summer weather to throw a company picnic? Whether a new idea or an annual event, company picnics allow employees and employers to grab their families and mingle in a fun, relaxed way.
This year, make your company picnic even more exciting and light-hearted by inviting a caricaturist to join in on the fun. Caricaturists can take your picnic from mediocre to memorable – here's how!
Caricatures Amplify Your Party Theme
Caricatures go beyond cartoon exaggerations of human faces; skilled caricaturists can also incorporate other unique touches, such as tying in themes. Take the theme of your company picnic to the next level by having a caricaturist reimagine employees as superheroes, sports stars, spies, animals and more! If your theme is the jungle or the Wild West, a caricaturist can tie this theme into his drawings. Themed caricatures give picnic goers a fabulous keepsake to remember your event by.
Department Caricatures Show Off Employee Personalities
If your company is split up into separate departments, get the different employees together for group caricatures. Group caricatures allow the different department members to bond over the experience and result of the caricature. For a fun twist, ask each department to come up with a general theme that best describes their part of the company for a more creative picture. Hang up the individual department caricatures in a common area to display the different personalities in your office!
Caricatures of Bosses Mean More Fun for Everyone
There is nothing like seeing your boss appropriately embarrassed in a silly way. Having the higher-ups in the company get caricatures is a fun way to help make the bosses in your company more relatable. Take this a step further by letting employees vote on how the employer should be re-imagined: maybe as a mascot from his favorite sports teams' rival, or as something like a Viking. Seeing the look on your boss' face when he or she sees the finished product will be a picture-worthy moment!
Caricatures Are Fun for the Whole Family
If your company picnic encourages you to bring family and friends along, a caricaturist is the perfect addition to the party. Children and adults alike will love getting their picture drawn during the event. Getting a caricature drawn with your family at a company picnic will re-emphasize that your family comes first, and allow your company to show your family they are important. Plus, caricatures make great living room art to put on display when the picnic is over!
Ready to ensure your company picnic is the hit of the summer? Contact Mark Hall Caricature Art today by calling 720-312-1220 to get started!