Valentine's Day is coming up, and you know what that means: the malls and florists will be full of people picking out impersonal presents to give to their loved ones. But why give your sweetheart a boring gift when you can get your special someone a truly unique present that reminds them how much you love them?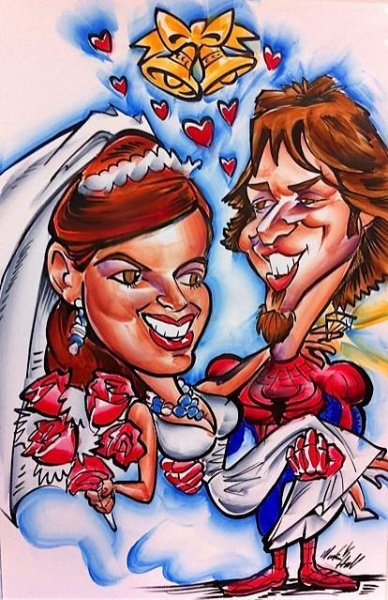 The gift of a caricature for Valentine's Day is something that your loved one won't expect, and there are a number of ways you can make it special. If you're coming up on a big anniversary, or you want to spend this Valentine's Day showing your love how much they mean to you, our caricature from photos service is the perfect way to give a completely personal and unique gift.
This means that you can hire Mark Hall to create a unique and meaningful caricature from a photo of you and your love. Since the caricature will be based on photographs, use images that have special meaning to you as a couple. Do you have a photo from your first date, or the first time you met? Or maybe one from a special occasion like your first anniversary?
Hall can take your photo, and turn it into a completely unique caricature, showing off the love that you share in a unique way. We can add special details that you provide as well, like the name of the restaurant where you went on your first date or the date that you got engaged right onto the drawing.
Why give your special someone the same thing you got them last year? Instead, give them the gift of a charming, memorable caricature that you can hang in your home, showing off a part of your love story to all the friends and family who visit.
Check out the gallery, which shows off some of Mark's best work, and contact us today at info@caricatureart.com or by phone at 720-312-1220 for more information on how you can surprise your love with a unique caricature this Valentine's Day.