Everyone loves a good caricature picture of themselves. It's fun and creative, and what better way to celebrate your birthday party than to hire a professional caricature artist like Mark Hall Caricature Art! Whether it's for a kid's birthday party or a birthday celebration for an adult, both will be extremely creative and fun. The guests will have some long-lasting party favors to take home.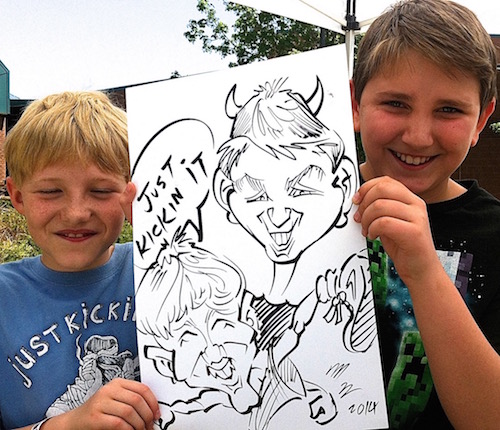 The benefits of a caricature artist at your birthday:
No matter what age you are or your guests, we all love a creative cartoon drawing of ourselves. It's something to hang up and show your friends and family. At a birthday party, there comes some benefits.
Get a professional artist
Your guests have party favors to take home
Another activity to keep your guests busy
It's unique and different
Acquired art
Mark Hall has been an artist since the age of six. Besides doing caricature art for several years, he has also illustrated books, tee shirts, and Holiday cards. He is been in the art world for many years and his experience and creativity with people is amazing. He makes everyone feel comfortable when drawing their caricature.
This is very important when hiring an artist for a party. The typical "clown party" at a kid's birthday has definitely been overdone, so why not mix it up with a professional artist who can make the party something to be remembered.
Mark Hall Caricature Art specializes in caricature art for events and parties, weddings, trade shows, digital drawings and more! You can shop for art online and book appointments, as well as book on-location drawings. Contact Mark Hall Caricature Art at 720-312-1220 today if you're planning a birthday party that you want to be remembered by the birthday person and their guests.