So, you've picked your wedding date, your guest list is totaled, and you have a venue ready to go. Now it's time to think about entertainment at your reception on the big day. Lots of couples these days are having photo booths at their receptions, to give guests something fun to do. Then, when everyone goes through the photo booth, they'll have a photo sheet to remember your wedding by. But do you really want to be another couple that has the same thing as everyone else? Why not shake it up and give your guests something different with a caricature artist at your wedding?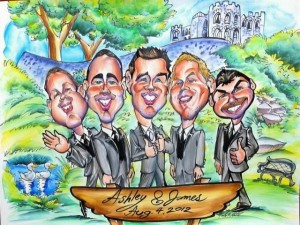 Instead of renting out a photo booth for your wedding reception, consider hiring a caricature artist to draw photos of your guests! Forget the over-done photo booth: give your guests a unique experience that they'll remember forever.
A caricature artist is great for weddings and gives your guests a unique opportunity to see themselves through the eyes of the caricaturist. Plus, the artist will be able to do group shots of a few people if they'd rather sit together for a drawing – just like they could with a photo booth. Plus, with a caricaturist, you can have entertainment that fits seamlessly into your reception without meaning groups have to get away to the photo booth and miss the party, so no one will feel like they missed anything.
The best part is that your guests will walk away with a hand-drawn memento that will remind them of your special day and how much fun they had at your reception. Do something different for your reception, and give your guests the fun experience of having their caricature drawn – an entirely unique wedding favor that will last a lifetime!
To learn more about booking caricaturist Mark Hall for your wedding reception, give him a call today at 720-312-1220.