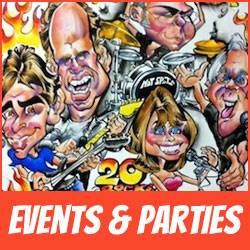 Now that winter is on its way, it means the holidays are coming up fast, too. With that, many companies and groups will be holding holiday parties for their employees and members. This year, instead of just the same old music and food, draw up some more fun and book Mark Hall and Caricature Art for your party.
By having a caricature artist at your party, you give it something unique that people will remember. This is not only because the artist was there, but because Mark Hall will create artwork that they can take with them as a memento from your great holiday celebration. Whenever they see the drawing, they will be brought back to the holidays and recall the wonderful time they shared with everyone in attendance and have that warm, happy feeling that normally comes with the holidays.
The holidays are also a great time to break out all of your holiday-themed fun, and having caricature done at your party or celebration gives everyone a great and unique piece of seasonal décor. That means next year when the festive season arrives, they can bring out their Christmas-themed caricature from Caricature Art and use it as decoration in their home or office.
Including a caricaturist can also attract more people to attend the party as well. Advertising having a caricature artist at your event provides something that's truly one-of-a-kind and different from the same old holiday season gathering. Make your festive celebration more unique and appealing by having Hall be a part of your seasonal event.
To find out more about booking Caricature Art for your upcoming holiday party or any other occasion – call 720-312-1220 today!