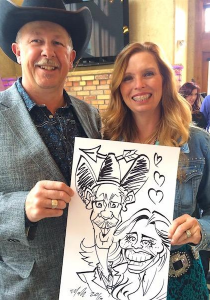 When is a party more than a party? When you get a theme involved!
Theme parties remain incredibly popular, whether it is superheroes, baseball or a dip back into the 1980s. Theme parties serve as an invitation for guests to come out of their shell and dive into the theme for one night.
A fun way to add excitement is a theme party is to hire a caricature artist. At Mark Hall Caricature Art, we can incorporate any theme into our artwork to give your guests a fun keepsake to remember the party.
Do you want to see your coworker dressed as Captain America? Would your brother-in-law look good in his tuxedo from the 1986 prom? How about a picture of all your teammates from the softball team posing together in a fun way to recap the season?
When it comes to caricature themes, the only limit is your imagination. Take a look at some of the themed drawings from previous parties. You'll see everything from college football themes to superheroes to James Bond.
Mark has been drawing his whole life and would love to incorporate your themes and ideas into his works of art for you to enjoy. If you're looking to add excitement to your next theme party in Colorado, reach out to Mark Hall Caricature Art today.
Along with theme parties, Mark can come to almost any event to add a fun element for your guests. Whether it's a wedding or a corporate party, Mark can draw your guests in exaggerated yet fun ways that will ensure everyone at the party has a good time. When you're planning your next event, think about having adding fun and entertainment with caricature art!
To learn more, call Mark Hall Caricature Art today at 720-312-1220.