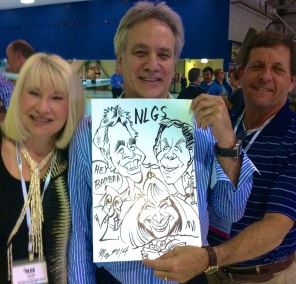 Caricature art is a great way to capture the memory of a certain time in your life. Whether you are walking along the boardwalk with your significant other or visiting a new city, having a caricature done is always a unique and fun activity. It is often thought of something that is only offered in vacation or tourist spots, but caricature art can be used as a tremendous business asset, as well. Let Mark Hall prove this by booking him to draw – and draw in – potential clients for you and your business at your next trade show.
Having a caricature artist at a trade show is a great way to draw a crowd. Many people stop to see a caricaturist, intrigued by how a blank piece of paper will transform into an uncanny rendering of themselves or their friends or business partners. Every business at a trade show wants nothing more than for a crowd to form by their booth – after all, each and every person in the crowd is a potential client. Hall loves working trade shows, and can help incorporate your business and industry into a series of fun and memorable caricatures for everyone who stops by your booth. Plus, while someone is posing to have a caricature drawn, your company has a perfect opportunity to explain your business and possibly gain a new client.
Hall is a talented caricature artist who has been drawing since he was 6 years old. Over the years he has honed and developed his talents where he can draw uncanny renderings of celebrities, fictional characters and anyone who is willing to pose. Mark has an expansive portfolio, which spans thousands upon thousands of drawings. He has used his skills in a wide variety of settings, including trade shows. He's worked with many companies to draw prospective clients at their trade shows.
If you or your company is gearing up for a trade show, don't forget to draw on the talents of Mark Hall to help make this one of your best appearances yet. To learn more about hiring Caricature Art for your next business show or event, give Hall a call at 720-312-1220 today.