A successful artist in any genre should be able to show off an extensive portfolio of previous works that profile their deft handiwork and creative eye. Practice makes perfect, and any artist who works to bring forth an image on a canvas must have years of work under their belt before they can ply their trade with any consistency.
If you're considering whether your party would benefit from the entertainment services of Mark Hall Caricature Art Inc., be sure to check out our gallery page before making a final decision. These images showcase a large variety of works and techniques employed by Mark Hall to charm crowds all over Colorado.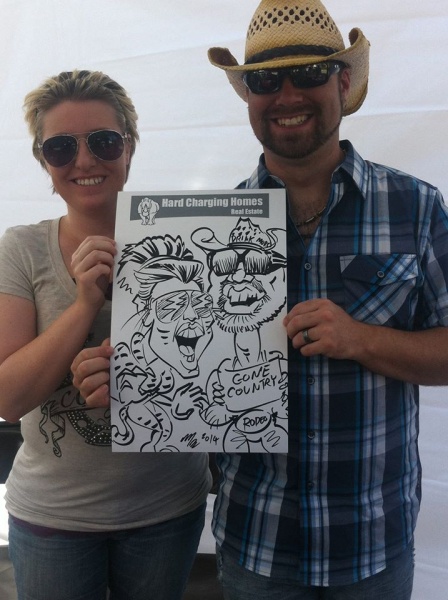 Many of our satisfied clients can be seen posing next to the caricature drawings that show off some fun aspect of their personalities. The looks on these beaming faces show the joy that these whimsical pieces of artwork can give people. Most of the people who stop by the caricature booth are taken aback at how these pictures unfailingly resemble themselves.
Markers and acrylic paints are the art supplies of choice for Mark Hall, and the gallery pictures have great examples of either of these. Artworks can be completed on high quality paper sheets, although some pictures show exhibitions where caricatures have been completed on large surfaces, such as the white board display at the Microsoft conference found in our gallery.
Caricature art should always be fun. Whenever we show up to a party or gathering, we find many people who are incredibly happy to see a version of themselves living out some fantasy or great fashion choices.
No matter what crowd you're trying to please, Mark Hall Caricature Art Inc. can keep them well entertained for hours. Call us today to schedule a session for our expressive artistic stylings at your next private party.