For centuries, caricature art has become one of the biggest and flashiest ways of satirizing presidents, dictators and politics in general, and it will probably remain that way until the end of time.
It's because this form of editorial commentary doesn't only skewer politics and politicians, but it does so in a creative and colorful way. The history of political caricature art is a long and storied one indeed.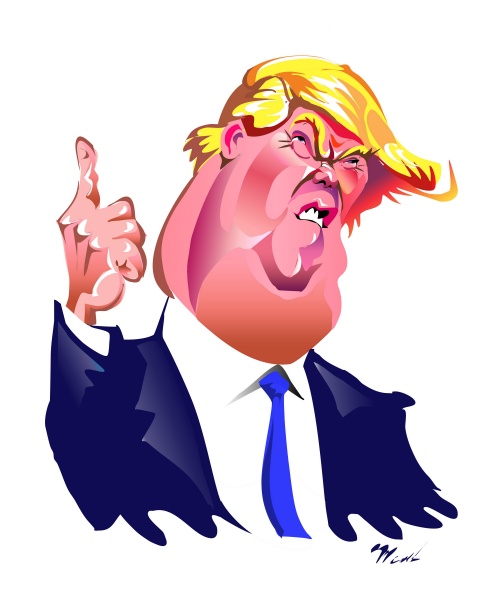 One of the first great artists to jump into the political arena with his caricature art is the artist James Gillray, who lived from 1757 to 1815. His famous contribution, a caricature of John Wilkes was the first of his many works. He also created social satire pieces involving the king of Britain, George III, Napoleon and many more, notes Cruzine.
Living between 1840 and 1902, great cartoonist Thomas Nast was also very vocal about many social issues of the time, including the trials of Native Americans and the pain inflicted by the Ku Klux Klan. Much of his work was published in Harper's Weekly during this time.
Political caricature art flourished during the 20th century as pieces including "Ohio – The Mother of Presidents," "Progressive Fallacies" and "How They're Acting – and How They Feel," among many others, came out in the mainstream to lampoon the presidents of the early 1900s.
Dictators were often depicted in caricature as well, with Adolf Hitler, Stalin and almost anything or anyone involved in the horrible events of World War II often appearing in caricaturizations. Cruzine notes some of the most famous works, including "Hitler – Stalin" by Bob Row, "Nazi-Soviet Alliance" by David Low and the infamous "How Hitler Says 'Legal.'"
As the late 20th century and the early 21st century have advanced on, caricature art has slowed down a bit, but the art form is still in the picture. Memorable works include depictions of Bill Clinton from artist Steve Curl, Dan Johnson's interpretation of Barack Obama and "Relief" by Kal Lex.
As time goes on, caricature art will continue to be a driving force in much of the political satire we see during each election. This is particularly the case in this year's election, as caricatures of Donald Trump and Hillary Clinton have become instant classics.
At Mark Hall Caricature Art, you can get caricatures of everyone from your favorite senator to your Aunt Marie, and these funny and creative art pieces are always the life of the party. This work is perfect for birthdays, weddings and work anniversaries. Give us a call at 720-312-1220 today and book Mark Hall's services for your next event!