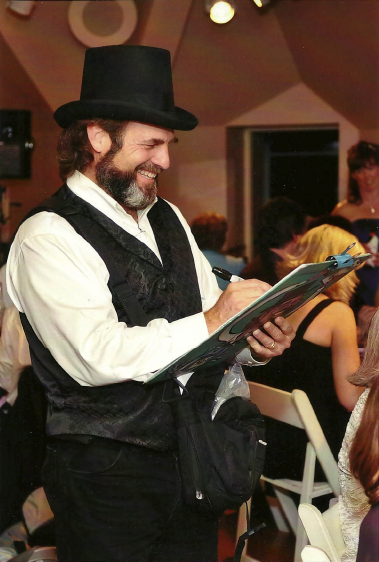 Mark Hall, of Aurora, CO, will be doing caricature art with three other artists at the Denver Museum of Nature & Science for their adults-only special evening called "Leonardo da Vinci: 500 Years of Genius," which includes an upscale dinner. The event will be held at the museum on April 2nd from 6 p.m. to 9 p.m. and is said to be "sold out" already! It is, perhaps, the ultimate "date night" in Denver– a cool place to be, surrounded by amazing art, with the chance to see caricature artists at work– what's not to like?
Hall is among other artists who will enliven an already interesting night of food, talk and art at the Denver Museum of Nature & Science. Attendees will be paying $50 to $60 to get in, with reservations required. They'll enjoy hors d'oeuvres, a cash bar, and dinner. They'll also get to experience what's billed as "the most comprehensive exhibition about Leonardo da Vinci ever presented." This exhibition comes to Denver by way of Grande Exhibitions (Australia) and the Museo Leonardo da Vinci (Rome) along with help from Italian and French experts. It's meant to immerse attendees in da Vinci's extraordinary life and his legacy.
The Denver Museum of Nature & Science is open daily (except Dec. 25) from 9 a.m. to 5 p.m. and is located at 2001 Colorado Blvd. For more information, please call 303-370-6000.
As a caricature artist, Mark Hall finds himself in all sorts of places and at all sorts of events. Whether it's drawing kids at a birthday party or couples at a wedding, he's versatile. Meanwhile, every now and then something unique comes along, like a "da Vinci dinner" at a museum where he gets to show off his talent in front of enthralled crowds. Indeed, wherever Hall draws, people take notice– they're fascinated by his talent, skill and the ability to capture a person's essence– fairly quickly– on paper.
Are you interested in having Mark Hall create caricatures at your party or event? Please call 720-312-1220 for more info. Additionally, see some of Hall's work here.