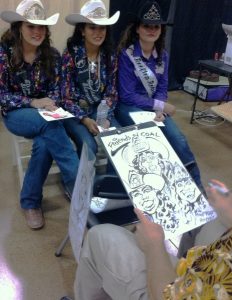 If you are a fan of caricature art, then you may also be a genius! That's right. Whether you like to create caricature art yourself or you just love to watch or be captured in these fun drawings, you may be smarter than the average bear.
Why? Because a recent study shows that art of all forms may actually help your brain function better in old age and has found some interesting data to help prove it.
According to the findings of the study, reported by the Pacific Standard in Germany, enjoying and creating art can increase the effectiveness of your brain.
The study was conducted by a group of newly retired individuals and found that creating art could help to radically slow the decline of brain functions as we get older, meaning that individuals who are artistically inclined can stay sharper for longer.
The study was performed by separating two groups of men and women. One group sat in on a hands-on class that allowed them to create their own art using miscellaneous drawing and painting techniques. The other group simply sat in the appreciation class while an art historian educated them on how to properly analyze paintings.
Both groups were administered two tests, one before the classes and one after, that were meant to evaluate the emotional resilience of the participants.
When all was said and done, the researchers found that those who engaged in the hands-on class had increased levels of functional connectivity as well as "a significant improvement in psychological resilience."  The group that only participated in the appreciation course performed worse on the tests.
While there is always additional research to conduct, this study is very revealing and helps to reinforce the belief of many in the benefits of art. The best thing is that these benefits can come from creating any type of art – anything from finger painting to caricature.
If you are looking to start your foray into the art world or celebrate it as part of your next event, why not begin by booking Mark Hall's caricaturist services for your next children's party, office outing or wedding with his famous caricature art. Make the smart decision and call 720-312-1220 to book Mark Hall today!