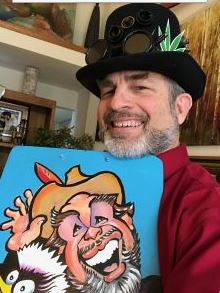 Mark Hall finds himself in all sorts of places doing what he does… as a caricature artist, Hall is often asked to draw people at weddings, corporate functions, in restaurants, and even in stores. Take, for instance, "The Coffee Joint." It's Denver's first licensed "social consumption club and coffee house" featuring cannabis. As an entertainment and educational center, The Coffee Joint is a unique place that likes to welcome in new people all the time. One of those ways to bring people in is to hire Mark Hall Caricature Art, who'll draw caricatures of people who visit The Coffee Joint.
Although The Coffee Joint can't allow indoor smoking, "we allow a legal way to get high in Denver," according to their website. At this unique venue, people can vape, dab or consume marijuana in different forms. For example, the shop sells a variety of fancy and affordable ways to vape flower, wax and oil. Or you can purchase E-Nails and dab it. And, being a coffee house, you can consume any form of THC edibles, including coffee (naturally!), candy, brownies, etc.
Located next to a Denver cannabis dispensary, The Coffee Joint is the kind of place where people like to hang out, relax, and "channel their inner creativity while medicating the mind, body and soul through cannabis."
Wherever people gather is a good place for Mark Hall Caricature Art to make an appearance— even at a place where most people are high, want to get high, etc.
In a way, caricature art is kind of like the effects of cannabis consumption– it's a bit of distortion of reality, right? With a caricature, the artist might make one body part much larger than the others to draw attention to it– so if you get drawn, don't be surprised if you have really thick, bushy eyebrows, a huge nose, and/or wide/big lips! And when people are high, they may see the world in a little different way than normal. Life is always interesting, isn't it?
The Coffee Joint is located at 1130 Yuma Court in Denver. And to hire Mark Hall to draw caricatures at your place, please call 720-312-1220.