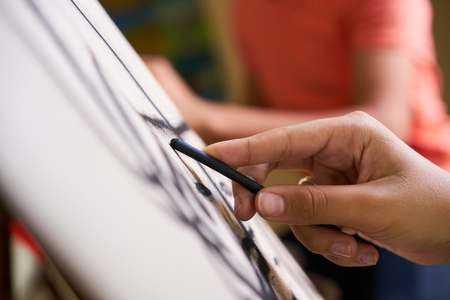 Here at Mark Hall Caricature Art, we like to highlight those who have come before us doing great caricature work. There have been many talented artists over time, and those who've done caricatures run the gamut. Take, for instance, a man named Jose Miguel Covarrubias Duclaud, aka Miguel Covarrubias as he is best known. Born in Mexico City in 1904, he produced caricatures for texts and training materials published by the Mexican Ministry of Public Education. So, if you were a student in Mexico in the early part of the 20th Century, you would have seen his work in your school books.
Covarrubias eventually moved to New York City. At the age of 19, he arrived in the U.S.A. without knowing much English. Yet, his talent was evident and he was soon introduced to several smart people (known as "the Smart Set") who recognized what he could do. Once New York's literary/cultural elite discovered him, his work started appearing in top magazines of the time. Eventually, Covarrubias became one of Vanity Fair's premier caricaturists.
Like other caricaturists, Covarrubias explored various artistic pursuits. He would design sets and costumes for theater productions, which is where/how he met his wife, Rosa. She became a photographer, and together they promoted their Bali honeymoon through a book, "Island of Bali," which set off the Bali craze in New York in the 1930s. Besides Bali, Covarrubias also spent time in China, where his work seemed to connect, particularly in Shanghai.
As for the caricature work of Covarrubias, his celebrity/political caricatures appeared in Vanity Fair, The New Yorker, and other American magazines in the 1920s and 1930s. His first book, "The Prince of Wales and Other Famous Americans," sold well. Later, he drew caricatures of the Harlem jazz club scene at the time, which ended up in Vanity Fair. As an artist, he essentially captured the spirit of the Harlem Renaissance in his work. It helped that he loved the people, music and culture of Harlem.
Covarrubias was also a noted painter and some of this work appeared in advertisements for products such as Steinway & Sons pianos. Exhibits of his work appeared in art galleries around the world, with an emphasis on the U.S.A., Mexico, and Europe.
Overall, Covarrubias should best be remembered as an artist who enjoyed sharing his appreciation for foreign cultures with the world through various means of expression, including drawings, paintings, and, of course, caricatures.