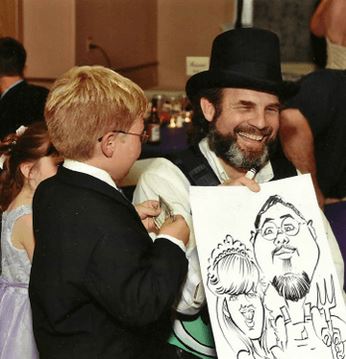 Jim & Jodie got married and wanted to have a fun wedding reception that wasn't "stuffy." So, the pair decided to host their own party outdoors at a country estate complete with lawn games, a bounce house for the kids, and a caricature artist. Guests had such a fun time and they eagerly lined up to have themselves "drawn." Then they took their "portrait" home with them, which made for a nice memento from the day. Even the bride and groom found time to sit for a couple minutes and have their fun caricature drawn!
Outdoor Venues
Caricature artists are often busy during the summer at a variety of outdoor parties, events and receptions. Usually, the venue is indoors/outdoors, such that there's a covered area with picnic tables or a place to sit and be drawn while other things are happening all around, including kids playing in the pool, a volleyball game going on, or a BBQ dinner. What are some of the summer events where caricature artists end up?
Special Parties
Well, besides wedding receptions, there are graduation parties. Whether it's for an elementary, high school or college graduation party, age doesn't really matter. People of all ages like to be drawn at grad parties. It gives them "something to do" besides eating and talking!
In certain neighborhoods people host block parties. It's a nice time for neighbors and friends to hang out in the street or somebody's yard for a combination of picnic, sports' games and fellowship. Caricature artists often sit under a tent (for shade!) and draw various people during block parties.
Reunions
A variation on the block party is the summer family reunion. Families today don't get together as much as they used to, and it's "rare" to "have all these people in one spot together." Therefore, a family reunion is prime time to get caricatures drawn of everybody from "Uncle Bob at age 88" to "the cousins" who live in different states but are "all here today for once!"
In Aurora, Colorado, if you're having a summer event that would be enhanced by having a caricature artist on hand, call Mark Hall– he's the man to do it! Call 720-312-1220.