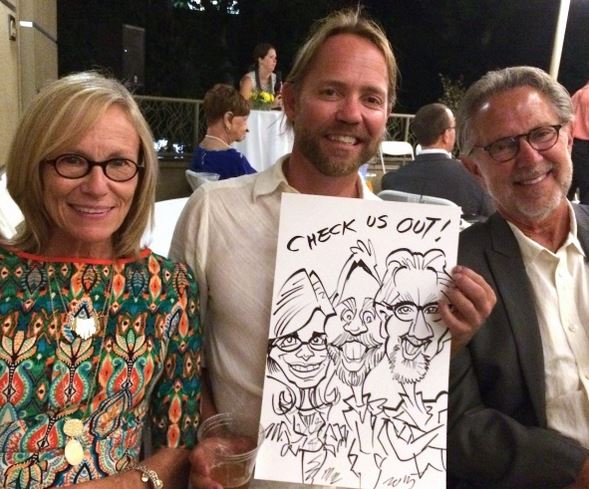 Caricature artists can truly enhance your event. People love having someone draw them in a cool and unique way. Many weddings, birthdays, and anniversary parties have benefitted from having a caricature artist or two on board to help make the atmosphere more festive, complete with mementos to take home and hang on the wall.
If you're thinking about hiring a caricature artist for an upcoming party or event, what are some things to keep in mind?
Number of Attendees
First, how many people will you have at the event and will you want everyone to take home a drawing or not? For instance, if you're having 200 people, do you expect about 100 of them will want to be drawn? Will some of them get into small groups, such that the artist will be drawing, say, families of 3 or 4 people at a time? Or will it be almost all single people at the event? Who is coming to the party/event is something to consider… and then convey that info to the artist. How fast can the caricature artist draw? How many drawings per hour do they typically do? How long will the party/event last? Is there enough in the budget to hire the artist for several hours of work, or just one?
Style
Next, when it comes to the type of caricatures the artist will do, will they be in black-and-white or in color? Keep in mind partial or full color pictures take longer to do. In some cases, artists can use colored markers just to add some color accents to black-and-white drawings– that's a way to add some color but "save time" overall, in order to get more people drawn in a short period of time. Similarly, would you prefer the artist do heads only or bodies/backgrounds, too? While people often love having the body/background included, heads only can work better in the interest of time.
Space
Finally, where will the artist do their work at your party/event? Is there a proper space for them? For instance, you wouldn't want to put them too close to loudspeakers or the drinks' table. You would want to have a clean, fairly quiet space set up ahead of time for them to sit/set-up, and keep in mind there will have to be space for people to line-up for the drawings, too. You'll want enough space around the caricature artist for people to "hang out," as they want to watch others get drawn, or to be close by for their turn.
Do you want to talk with caricature artist Mark Hall of Aurora, CO, about a party/event you've got coming up and get planning? Please call him at 720-312-1220.