Becoming a caricature artist can be a daunting task if you haven't had much experience with caricature art, but that shouldn't discourage you from going after it. Caricature art is very unique in that it portrays a cartoon-like version of the person you draw. It's funny, entertaining, and everyone seems to enjoy getting their caricature done.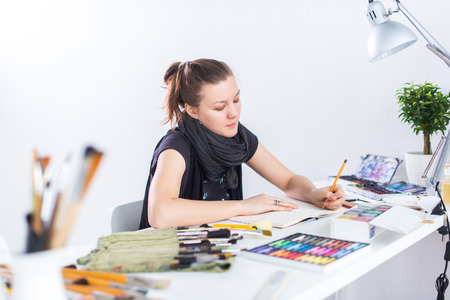 How to Start?
If you're an artist, but you don't have much experience drawing caricatures, you'll want to start working on your skills. This will take much practice and patience to improve your quick learning and drawing abilities.
Study up on different caricature techniques and styles, but don't copy these.  Develop your own style and signature, so that you stand out from the rest. This will help you out in the future. Practice drawing on the fly and create your own technique to finishing a masterpiece.
The best thing about caricature art is that it has creative potential beyond any drawing you've done. When drawing someone's caricature, you should not be worrying about offending someone. The whole point of caricature art is it's supposed to be an exaggeration of the person's facial features and characteristics. With that in mind, you'll be a better artist.
Promote Yourself
Once you have the ability and skills to succeed in drawing caricature art on the fly, then it's time to share it with the world. Don't be ashamed of promoting your work on social media, especially Youtube, Instagram, Facebook, etc. This will give you the exposure you need to attract customers and enthusiasts around the digital world.
Tip: Start drawing your family members and friends. Give them as gifts to people. This will also give you great exposure that people can actually hold in their hands.
Mark Hall Caricature Art
Mark Hall Caricature Art specializes in caricature art for events and parties, weddings, trade shows, digital drawings and more! You can shop for art online and book appointments, as well as book on-location drawings. Contact Mark Hall Caricature Art at 720-312-1220 today if you're planning a birthday party that you want to be remembered by the birthday person and their guests.