Diabetes suffering Caricature Artist, Beth Hebert-Shuler, recently had to have her leg up to her knee amputated, which caused a bit of a problem for her home, which had stairs leading up to her house. Not only was this a problem for getting in and out of her house after she got out of the hospital, but it meant she actually couldn't go anywhere. So, after making her needs known to plenty of people whom she had helped over the years with fundraisers using her caricature drawings, or at hospital or church events, she found hundreds of volunteers willing to help her not only pay for the materials to get a ramp built up to her home, but some drove her around, and others helped build the ramp as well.
Beth Hebert-Shuler, of course wasn't just some random artist though, she was quite famous for the thousands of events she had been involved with as the sole caricature artist around, and even has a T-shirt warehouse company, where much of her art is placed on the T-shirt products. This meant many people had been inspired and influenced by her art, and in turn all those people were more than willing to help someone that had been at the rock-bottom for a time in need.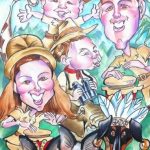 Of course, Hebert-Shuler does admit that she could have done better with her diabetes, and kept better control over it, but she was so happy to see the amount of people that had helped her out when she needed it the most that she has now set specific goals with herself to achieve when it come to her diabetes so she doesn't disappoint her caricature fans again by being out of commission from surgeries and recovery.
It just goes to show just how much influence a caricature artist can have when they inspire so many smiles, happiness, and just good times in people's lives.
Source: http://www.kplctv.com/story/26431338/volunteers-answer-plea-for-help-from-local-caricature-artist