Authenticity in art is extremely important to an artist's integrity and work. It's 2020 and it seems that there is a boom in artists, photographers, musicians, and entertainers because of the social media development. Social media has allowed artists to become known and recognized, which is a very good thing.
But the real question is are these artists authentic?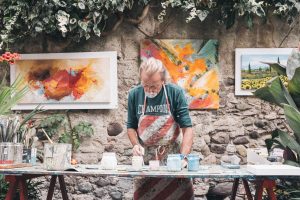 Authenticity Does Not Wear a Mask
It's fairly easy to pick out fake art and artists on the internet and in public. Authenticity doesn't wear a mask. When you find authentic art, you know how much work the artist put into that specific piece. With Caricature Art, you're getting the most authentic art there is.
The fact that a caricature artist draws an image right in front of your eyes without taking too much of your time is a very skilled talent. Mark Hall is a caricature artist in Colorado with years of experience and work who is proud of the authentic nature of caricature art. From weddings to birthday parties, caricature art can lift spirits due to its cartoon-like drawings of people around you or yourself. It gives us a laugh.
Here are some reasons why authenticity is cherished in art:
Consumers and Viewers value authenticity – whether your art is on display or you are selling, customers and viewers will appreciate the authenticity. They are more willing to purchase something that is genuine and authentic, rather than something that is a dud.
Integrity and Respect – as an artist, you never want to be known as a fraud. If you truly are passionate about the work you do, then your art will reflect its authenticity. You will get the respect you deserve for the art that you create.
It's Real and Unique – people will recognize hard work through authentic art. An individual piece is valued more because of its uniqueness and realness.
For All Aspiring Artists Out There
It's very crucial for aspiring artists to be aware of their talents. If you truly have a passion for your art, run with it. Make it your own. Make your art stand out among others because it will pay off in the end. Don't get caught up in a routine that drains your passion for the art. If this happens, you'll realize you're on the wrong path.
If you're someone looking for authentic art, look no further! Mark Hall Caricature Art is here to provide you with caricature art for birthdays, weddings, events, and more! Mark Hall cares about the product he delivers and the happiness that comes with the consumer. Contact Mark Hall at 720-312-1220 today!