The fall foliage is here and it will soon be replaced by snow depending on where you live in the country of course. Clearly, we have entered the holiday season, so get ready. Now for many in the country, this is an exciting time. For starters, you get the chance to hang with friends and family, but for others, it's a stressful time where the daily grind cranks up to eleven and roughs us up seemingly every second. It is a time where some of us feel stretched out as if one hand is touching the sky and the other hand is cuffed to piping in the basement. It's tough to feel the enjoyment of that holiday cheer when it feels like we're propped up on the autopsy table.
Here's a suggestion to make this season a little less stressful: embrace art, your creative pursuits, and caricature in particular. Remember that art can lift us up out of the abyss and into a brand new day. There's no greater purpose of art than that and it can play a huge role in getting us through the holidays unscathed and healthy.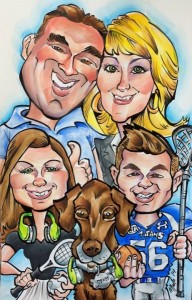 The problem when we are weighed down by the season is that we lose touch with ourselves. Despite there being a plethora of parties we frequent, it's as if we're on another planet, as if we're not ourselves. How can we possibly enjoy the season when it's as if a stranger is living inside our bodies? Imagine a caricaturist at those parties sketching your true self. That might just be the best gift of them all.
With Thanksgiving, Hanukkah, Christmas, and other important days coming in the next couple of months, it is safe to say the holiday season is almost upon us. There is a lot to love about this time of year, least of which is all of the holiday parties and events you get to throw and attend. No matter what type of event you are involved in this holiday season, we're here to tell you why having a caricature artist is a great idea.
In general, people love when there are multiple things to do at any type of event or party. Enjoying food and drinks and conversing with other guests is always fun, but sometimes you need something extra to make the event especially memorable. A caricature artist could be that extra something that will really make your holiday event shine where others fade away.
When it comes to caricatures, most people enjoy seeing exaggerated versions of themselves drawn by a talented artists, especially in a group setting where they can share the experience with their friends, family members, or coworkers. On top of that, the holiday season is the perfect time of year to add a fun twist to ordinary caricatures. Instead of a standard caricature of a person's face, the picture could have a fun holiday theme that fits with the entire party.
Aspects of specific holidays can be incorporated into each drawing. Whether it's someone dressed as one of Santa's elves, cutting the Thanksgiving turkey, or anything else, the possibilities are almost endless. This picture will serve as a fun keepsake from the holiday party, and it can be something that is brought out and enjoyed around this time every year.
The next time you are planning a holiday event or party, consider hiring a caricature artist to really enhance the entire evening!