An exciting and unique way to promote your brand is by using a caricature in your logo. When people visit a company's website, the first thing that they see is their logo. A company's logo connects the people to their brand, so it's essential to make it stand out from others in their industry. Adding a caricature makes your logo eye-catching, and it's a great way to differentiate oneself from the competition.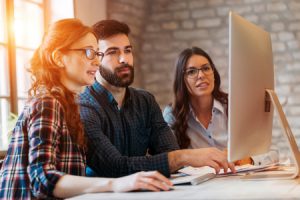 Draw People to Your Message
You can't help but stop and stare whenever you see a caricature. They are made with exaggerated features that make the image playful and standout. Although caricatures are often humorous, they can still be professional. Including a caricature in your logo can help the audience learn a little more about the company, and help you understand the brands core values.
Using a face as your logo helps your audience remember your brand. One of the first things we learn as an infant is recognizing familiar faces. Naturally, we are drawn to faces,so make them stand out in any business logo!
Design it To Best Represent Your Brand
Once you decide that you want to use a caricature as your logo, you can start designing it! You can use a caricature to represent the owner of the company,  a team of employees, or you can invent your own character. Any of these options can help show your audience who you are and what your company stands for. However, remember to keep it simple. Since caricatures are unique and stand out already, you don't want to go overboard by filling it with unnecessary elements.
Boost Your Brand Image
People love animation, and a caricature drawing can be just as enjoyable as an animated video. Using a caricature to build your brand can help your audience connect with your company on a more personal level. You  have control over how your audience will interact with your logo, because you have the power to highlight specific characteristics that represent the significance of your company.
If you're looking for a digital caricature, you can purchase a digital caricature drawing in our online shop. If you have any questions about our digital drawings, or if you would like to hire Mark Hall to create a caricature or be at an event, get in touch with Mark Hall Caricature Art Inc. today!