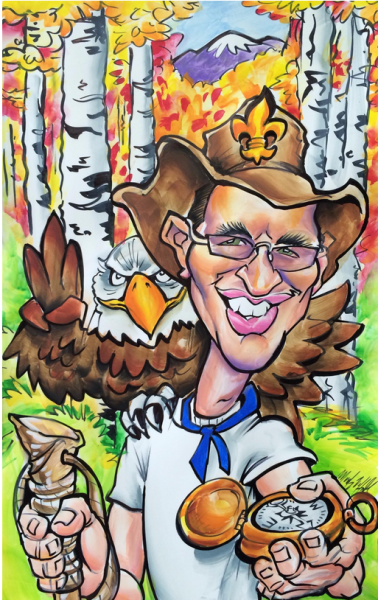 You were most likely first introduced to caricature art on a family vacation, and many caricature artists are often found at beachside boardwalks, fairs and carnivals to provide fun mementos to remember the moment by. But, have you ever wondered where this unique art form first started? While we recently looked at some of the famous people throughout history – all the way back to Da Vinci – it might be worth taking a closer look at the full evolution of this unique art.
According to OddDonkey.com, the full meaning of "caricature" as we understand it today came about in 16th-century Bologna, Italy at Carracci Academy where the two founding brothers, Annibale and Agostino Carracci, drew small portraits as an exercise during breaks from work. Instead of imitating nature, the brothers drew the reality they saw behind the appearances of everyday people. Many students thereafter participated in games where they would draw pictures of visitors comparing them to animals or objects.
The trend caught on, and rose to a higher level of notoriety in the early 1800s in France when Charles Philipon, owner of the magazine La Caricature, often offended French king Louis-Philippe by creating caricatures where he made the king's head the shape of a pear. Not only was this shape a sexual pun, it also became the universal symbol for the king's regime. This political caricature was the first of many to become an influence on future campaigns.
Thomas Nast, an American political cartoonist in the mid-to-late 1800s, later became one of the most influential of his time by creating caricatures of the Boss Tweed ring, Tammany Hall and the GOP elephant. Next came Miguel Covarrubias, Al Hirschfeld and Mort Drucker whose caricatures made big impressions on American readers regarding politics, celebrities and more, and marked an evolution of caricature that spurred the careers of some of the popular political and editorial cartoonists on through the modern day.
Across the centuries, caricatures have evolved into their own interesting art form that can be loved by people of all ages. Now, you can enjoy a personalized caricature of you and your family in your own home. Mark Hall Caricature Art is excited to be a part of your special event whether you are planning a birthday, anniversary, corporate retreat, wedding or any other type of gathering. With decades of professional experience, you can expect to receive a one-of-a-kind caricature drawing experience from Mark Hall. Call 720-312-1220 or email info@caricatureart.com to schedule Mark Hall at your next party.