Artist Mark Hall,
Owner of Caricature Art Inc.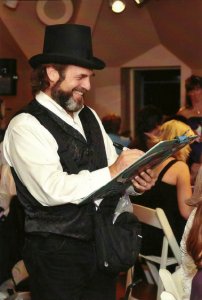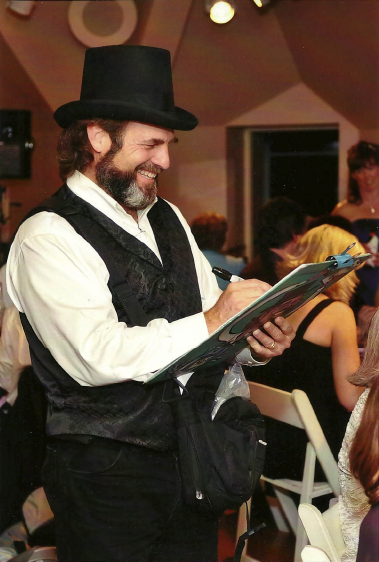 Mark Hall founded Caricature Art Inc. and has drawn caricatures since the age of six when he first drew Walter Cronkite! Mark studied at the Colorado Institute of Art where he mastered his drawing skills, and now he can bring a lifetime of experience to your event. His talent is matched only by his wonderful way of working with people. He has the ability to lure people in with his caricatures and make them feel comfortable. In addition to caricatures, Mark illustrates books, tee shirts, and Holiday cards.
There's nothing more important to Mark Hall than making people smile and creating great art, and he can do both at your next event in Colorado. Mark is a professional artist who founded Caricature Art Inc., but he's been doing this since the age of six. In fact, his first caricature was a drawing of Walter Cronkite! What began as a hobby soon turned into a passion and a career, and Mark studied at the Colorado Institute of Art in order to further master his skills. Today, he works fulltime as a professional caricature artist, but drawing isn't his only talent. He loves working with and interacting with all types of people, and bringing a smile to their faces as he draws them is why he does this for a living.
Mark doesn't just draw caricature art however. Throughout the years he has designed tee shirts, holiday cards, and has even illustrated books. No matter what he is drawing, Mark's passion shines through, and the audience can tell. Nothing is better than laughing out loud, and when you see a caricature of yourself or a friend, it is almost impossible to not do just that. Better yet, Mark's full body quick sketches take only a few minutes, but the experience and drawing will be remembered for a lifetime.


Whether you're looking for celebrity caricatures in Colorado, drawings of your party guests, or any other type of caricature art or illustrations, you can count on Mark to produce high-quality work right before your eyes. We invite you to browse our website to learn more about Mark Hall Caricature Art Inc. and our services, or give us a call today for additional details!