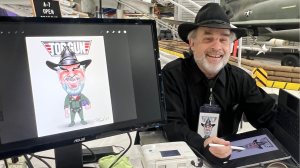 Full Color Digitally drawn caricatures in 8 minutes. "AirDrop" to your iphone and / or printed on 4X6 paper. Sleeves and lanyards included. Wear them and compare with your friends.
If you are interested in just one digital caricature you can purchase. Try our digital caricature drawing in our online shop. You will need to register an account to order online. For digital drawings select "Digital /Full Color" under Media* after clicking "Select Options" on one of the shop pages.
Using the technology of today, Mark Hall can create a one of a kind caricature drawing like you've never seen before. Whether you would like us to recreate a family photograph or transform you and your friends by using a fun theme, we know you will be impressed by our digital drawings. Mark Hall has decades of experience creating caricature art, and digital drawings are just one of many tools that he employs in order to create high-quality, visually stunning artwork. Of course, like all of our caricature art, our digital drawings are unique pieces that are handcrafted by Mark himself.
We invite you to browse our gallery to get an idea of what our digital drawings and other type of caricature art looks like. If you have any questions about our digital drawings, or if you would like to hire Mark to create a caricature or be at an event, get in touch with Mark Hall Caricature Art Inc. today!
Here are some examples of my digital drawings on the iPad.